Home > Asia > Japan > About
---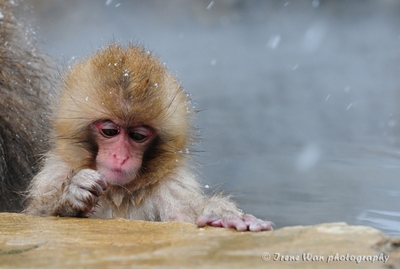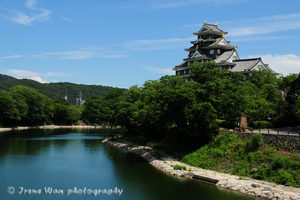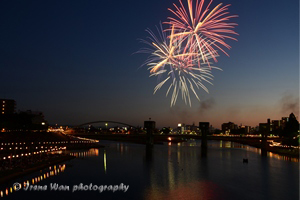 Japan
Geography
Japan is situated in northeastern Asia between the North Pacific and the Sea of Japan. The area of Japan is 377,873 square kilometers, nearly equivalent to Germany and Switzerland combined or slightly smaller than California. Japan consists of four major islands, surrounded by more than 4,000 smaller islands.

Shown below are the four major islands, their locations and sizes.
Hokkaido (northern island) including Sapporo
Honshu (main island) including Tokyo and Osaka

Shikoku (smallest island)
Kyushu (southern island) including Fukuoka and Kagoshima
Japan's topographical features include coastlines with varied scenery, towering mountains, which are very often volcanic and twisted valleys that invite visitors into the mysterious world of nature.
Language
Japanese is only official language spoken in Japan. However, many Japanese are able to understand English to a certain extent since English is the foreign language that everyone must learn as part of compulsory education.

Even if you don't understand Japanese, you can still certainly enjoy Japan. A jew japanese phrases will make your trip even more memorable:

Currency and Money Exchange
There is no limit on the amount of any currency that may be brought into or taken out of Japan. However, if you transport (any currencies, checks, securities or other monies) exceeding 1,000,000 yen worth in Japanese currency into or out of the country then you must complete a customs declaration.

The unit of Japanese currency is yen. Coins are available in denominations of 1, 5, 10, 50, 100 and 500 yen and bank notes in denominations of 1,000, 2,000, 5,000 and 10,000 yen.

Electricity
The voltage used throughout Japan is uniformly 100 volts, A.C. There are two kinds of frequencies in use; 50 Hertz in eastern Japan and 60 Hertz in western Japan (including Nagoya, Kyoto and Osaka).

A convertible type of electrical appliance such as a hair dryer, travel iron and shaver will therefore be handy; otherwise a step-down transformer is required to convert the voltage.

There are no columnar-shaped plugs or 3-pin plugs used in Japan but 2-flat-pin plugs are used instead. It is therefore advised to purchase a plug adapter beforehand.
Climate
The climate of Japan varies greatly, ranging from temperate in the north island of Hokkaido to sub-tropical in Okinawa in the far south. Japan's foue seasons resemble their own, but coniditions are more pronounced, with a significantly colder and snower winter and a munch hotter, stickier summer. Spring and autumn are the best tme to trave, with the delicate cherry blossom or reddish autumn leaves.
The cherry blossom season begins its journey northward in mid-March, reaching Kyoto and Tokyo by early April, and finally arriving in Sapporo by mid-May. The autumn leaves reverse the pattern, touching the high peaks of Hokkaido in October and marching steadily south to Kyoto by mid-November.
Winter (December - February)
The temperature rarely drops below 0°C in the plains along the Pacific coast during wintertime. It is also quite dry and very often sunny. Central Japan and Northern Japan are highly reputed regions for winter sports. Southern Japan is comparatively mild and pleasant in winter.

Spring (March - May)
The cherry blossom at its seasons. Splendid views of mountains, fields and gardens all blanketed in gentle pink abound in this season.

Summer (June - August)
The Japanese summer begins in June with a three to four week rainy season. This is an important time for farmers to plant rice. It becomes seriously hot and humid from July onward and many Japanese enjoy bathing in the sea and relaxing at cool resorts in mountainous areas. Summer is when many interesting festivals and other events are held all over the country.

Autumn (September - November)
Autumn always brings such freshness with a light breeze and cool temperature after the hot and humid summer. All forests are dyed in glorious autumn colors. Maple leaves and Chrysanthemums create beautiful and colourful displays with their abundance of flowers to enchant visitors to parks and gardens. Autumn is also the season for many exhibitions, music concerts and sports tournaments in Japan.

Average Temperature & Precipitation in Major Cities:
| | | |
| --- | --- | --- |
| | | |
| Sapporo | | |
| Sendai | | |
| Tokyo | | |
| Nagoya | | |
| Osaka | | |
| Fukuoka | | |
| Naha | | |
| | | |
| Sapporo | | |
| Sendai | | |
| Tokyo | | |
| Nagoya | | |
| Osaka | | |
| Fukuoka | | |
| Naha | | |
Key: "T" stands for temperature in (F) Fahrenheit and (C) Celsius.
Japan Hot Spring
Beloved in Japan since the dawn of history, the onsen is an essential Japanese experience. Here are some of the most popular hot springs around the country.
Hokkaido 北海道

Noboribetsu 登別溫泉

Conveniently accessible from New Chitose Airport

Akita 秋田

Nyuto onsen 乳頭溫泉

Enjoy snowy landscape and milky water at this classic spot. 35 minutes from Morioka Station (Akita airport)

Yamagata 山形

Zao onsen 藏王溫泉

Also a popular ski resort, Zao is known for its snow monsters (fronzen trees).
Accessible via Shonai Airport (SYO)

Kanagawa 神奈川

Hakone 箱根

Gorgeous views of Mount Fuji! The trip from Shinjuku to Hakone-Yumoto Station takes around 90 minutes.

Ehime 愛媛

Dogo Onsen 道後

The oldest onsen in Japan, Dogo appears in some of the nation's foundational myths.
Accessible via Matsuyama Airport (MYJ)

Oita 大分

Beppu onsen 別府

A whopping 4,538 springs make Beppu the onsen region in Japan!
Accessible by train or by air via Oita airport (OIT)

Newsletter Subscription: 訂閱最新旅遊資訊
Site Map · Privacy Policy 私隱政策(只附英文版)
© 2020 Exotic-Holidays.hk · All Rights Reserved.
..

.